New Website Launching 4Q 2019 for Bladenboro & Bladen Housing Authorities
Date Posted: 09/17/2019
The Bladenboro & Bladen Housing Authorities will be launching their new responsive website 4Q 2019 (www.bladenhousing.org). The website was created by Brooks Jeffrey Marketing, Inc. (www.BrooksJeffrey.com).
This new responsive website will allow users to easily navigate the website no matter what device is used in viewing the website (desktop, laptop, tablet, smartphone).
Some of the features/functions on the new site include:
Participants pages including frequently asked questions, eligibility requirements, newsletter, resources and more
Programs pages includes both Public Housing and Housing Choice Voucher (HCV) programs including information
for landlords and section 8 portability
Calendar feeds five events to the home page with quick links to the complete interactive calendar
E-News feed from the home page for quick review of the three latest news articles posted on the site
Locations Map - Find housing properties in your area by type of property
Quick link in the header to auto-dial when viewing the website on a smartphone, plus search feature
All participants, landlords and the general public are encouraged to visit the website. Website administrators will be able to update the website continually, often weekly, with new information that will benefit all participants, landlords and the public at large.
For more information about the new Bladenboro & Bladen Housing Authorities website, please contact Mrs. Stevie Craig, Executive Director at 910.863.4919 or via email.
Brooks Jeffrey Marketing, based in Mountain Home, Arkansas, was awarded the contract for the new responsive website. Established in 1984, Brooks Jeffrey Marketing provides integrated marketing solutions: advertising, branding, photography, public relations, promotional items, websites & social media campaigns to businesses, government entities & non-profits throughout the US. Brooks Jeffrey offers customized integrated marketing solutions to Housing Authorities (www.BrooksJeffrey.com).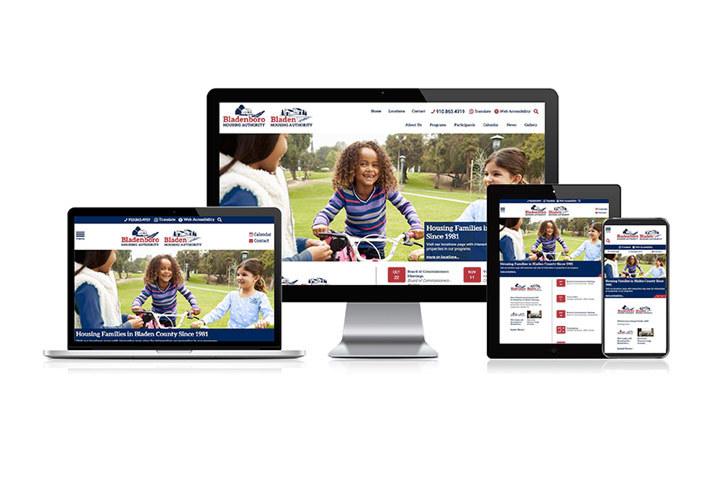 RELEASE DATE: 4Q 2019
For more information, contact:
Mrs. Stevie Craig, Executive Director
706 Chestnut Street, Bladenboro, North Carolina 28320
910.863.4919 l via email