Healthy Opportunities Program Available to Residents
Date Posted: 11/15/2022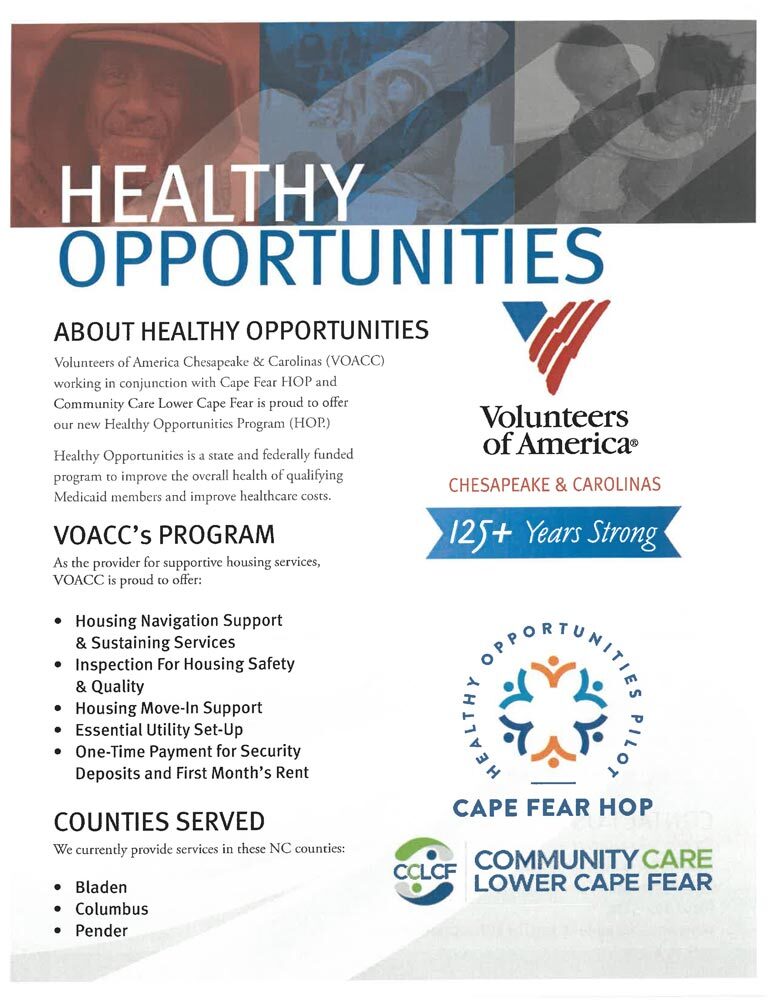 ---
About Healthy Opportunities
Volunteers of America Chesapeake & Carolinas (VOACC), working in conjunction with Cape Fear HOP and Community Care Lower Cape Fear, is proud to offer our new Healthy Opportunities Program (HOP.)
Healthy Opportunities is a state and federally-funded program to improve the overall health of qualifying Medicaid members and improve healthcare costs.
VOACC's Program
As the provider for supportive housing services, VOACC is proud to offer:
Housing Navigation Support & Sustaining Services
Inspection for Housing Safety & Quality
Housing Move-In Support
Essential Utility Set-Up
One-Time Payment for Security Deposits and First Month's Rent
Counties Served
We currently provide services in these NC countries:
How VOACC Operates
As the Human Service Organization (HSO) for housing, we are the front-line social service provider that contracts with the Network Lead to deliver pilot services. We participate in the healthcare delivery system, including submitting invoices and receiving reimbursement for services delivered.
VOACC will support identification of potential pilot enrollees by connecting them to their primary health provider or case manager. All referrals will be made to us through the Unite Us/NCCares 360 platform-referrals are assessed and evaluated by their CM and/or PHP, and the PHP will then authorize services, and the referral will be made to us through the platform.
Eligibility Criteria
To qualify for services, Medicaid managed care enrollees in Standard Plans and Behavioral Health I/DD Tailored plans must reside in a pilot region and have:
At least one Physical/Behavioral Health Criteria: Adults having two or more qualifying chronic conditions, pregnant women (history of poor birth outcomes), children ages 0-3 (neonatal intensive care unit graduate), and children 0-20 (experiencing three or more categories of adverse childhood experiences ACES)

At least one social risk factor: Homeless and/or housing insecure, food insecure, transportation insecure, at risk of witnessing or experiencing interpersonal violence
How To Know If You Qualify
Call your Medicaid Plan Care Manager and ask about Healthy Opportunities and how VOACC can help you with housing assistance. When speaking with your care manager, you must specify that you'd like to work with Volunteers of America Chesapeake & Carolinas.
Or you can click here and fill out the simple form, and we'll get back to you.
Contact Us
For more information, or if you have any questions or concerns, please do not hesitate to contact us at:
108 Memory Plaza, Suite A
Whiteville, NC 28472-2640