Executive Director Craig is Guest Speaker at West Bladen High School
Date Posted: 09/16/2019
Guest Speaker Stevie Craig visits Ms. Ellis's Principles of Business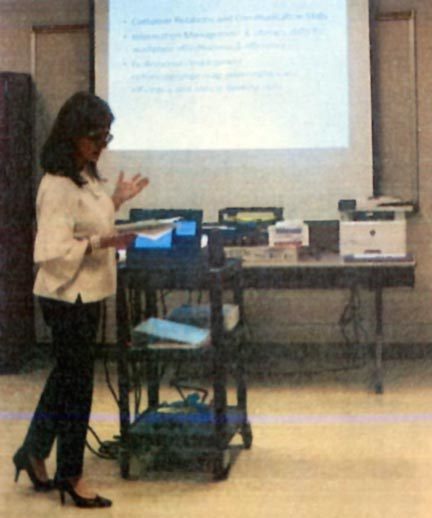 Ms. Ellis had the wonderful and rewarding opportunity to work for Stevie Craig at the Housing Authority as its Public Housing Manager prior to becoming a teacher. Mrs. Craig taught Ms. Ellis many business skills while working with her that she continues to use even in her teaching career. Mrs. Craig and the JMHC are certainly valuable assets to the community.

Mrs. Stevie L. Craig is a Bladen County native and a former graduate of East Bladen High School. Mrs. Craig took time from her busy schedule as the Executive Director of the Joint Municipal Housing Cooperative to visit Ms. Ellis POBF 3rd period class to discuss the Housing Authority and to relay to the business students real life business situations and the essential skills necessary to be successful in the workplace.
Mrs. Craig started her career with the Housing Authority as the receptionist and worked her way up the ladder through the different departments to her current position as Executive Director. The Housing Authority consists of 3 agencies: Bladenboro, Clarkton, and Elizabethtown Housing Authorities. She has been with the agency for 25 years. She worked full-time while achieving her Business degree with the University of Mount Olive taking night classes. She did this all while being a single parent to her son. She expressed to the students the many opportunities available to them after their high school career and that success is possible in anything that they may choose to do.
Mrs. Craig currently lives in Hope Mills, NC and married to Scott Craig. Her son is Zach Lowe and currently serves in the US Army 82nd Airborne Division.
We want to thank Mrs. Craig for visiting the class and giving a wonderful presentation. We graciously also thank her husband and son for proudly serving our country.